The WHATtoDOif project revolves around promoting a welcoming society for those who are reaching a host country and need to adapt to a new place. A welcoming society would be a place where everybody can live better, those who host and those who are hosted.
This Output is built migrants' knowledge around 6 thematic areas in 6 countries: Bulgaria, Cyprus, Czech Republic, Italy, Poland, and the UK.
The specific thematic areas are the following:
1. Visa procedures
2. Civic and political participation.
3. Housing and utilities
4. Access to healthcare services
5. Education for children and adults
6. Employment and business opportunities
The partners have defined solutions (Solution map) in a concise but exhaustive way, to offer a first-hand knowledge of everyday life situations, and immediate help through clear explanations and answers.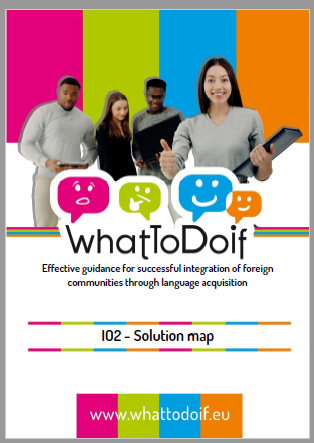 The proposed 'Solutions' reflect the partners' intention of spreading information on what is the best on offer in each partner host country.
The purpose of this Output is two-fold: it reaches migrants and refugees providing them essential information to ease their relocation, and it reaches social workers and civil society organizations that can make use of this fresh, user-friendly, and updated tool as an additional support in their work with these vulnerable target groups.