IO1 - Migrants info & Glossary Compass
The goal of the project WHATtoDOif is to help newly arrived foreigners, migrants and refugees to get oriented in the host-country economic, education, social and other systems, thus preventing their social exclusion or heavy dependency on their ethnic community.
This Output is built migrants' knowledge around 6 thematic areas in 6 countries: Bulgaria, Cyprus, Czech Republic, Italy, Poland, and the UK.
The specific thematic areas are the following:
1. Visa procedures
2. Civic and political participation.
3. Housing and utilities
4. Access to healthcare services
5. Education for children and adults
6. Employment and business opportunities
These areas were selected by the consortium based on feedback received by migrants in their Countries and were indicated as the most crucial for migrants' smooth adjustment in a new country.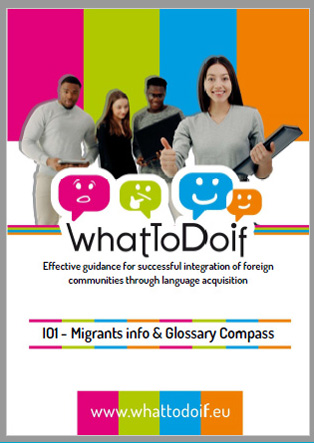 IO1 - Migrants info & Glossary Compass
The purpose of this Output is two-fold: it's an information guide for migrants (Migrant's info) and a tool for language educators (Glossary Compass).
The migrants can detect the procedures for a series of transactions such as finding a house, enrolling children to school, searching for a job, spotting opportunities to enhance their learning, locate institutions for language acquisition for children and adults etc.
The Glossary Compass is an e-glossary with useful terms per thematic area. These terms have been translated in partners' and migrants' languages (Afrikaans, Arabic, Russian, Romanian, Ukrainian and Vietnamese).