WHATtoDOif mobile App
The goal of the
project
WHATtoDOif is to help newly-arrived foreigners, migrants and refugees to get oriented in the host-country economic, education, social and other systems, thus preventing their social exclusion or heavy dependency on their ethnic community. This APP is created in order to spread and share information about WHATtoDOif project.
Download WHATtoDOif App

App is to help newly arrived migrants to get oriented in the host country.
The App also aims to disseminate key information about the European Union. By means of short information pills, it is useful to spread among the app users a better knowledge of the European institutions and their functions, as well as the opportunities offered by the European Erasmus+ programme for individuals and organisations.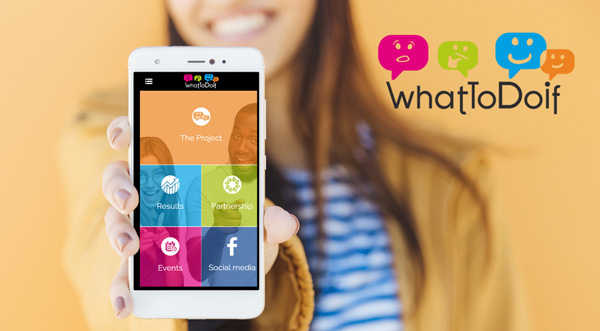 Contents of WHATtoDOif mobile App:
– Brief information on the main European institutions (European Parliament, European Council, European Commission, Court of Justice and European Central Bank).
– Brief information on the Erasmus+ program. This section of the App, will aim to spread a greater knowledge of the opportunities offered by the Erasmus+ program among adults, usually less informed about these benefits.
– Main WHATtoDOif project information, on objectives and the partnership.
– Permanently updated news channel from social media communication and with video tutorials "WhatToDoIf" from our YouTube channel.
– Download of project results (in Adobe PDF (Portable Document Format).
– Contact form to receive from our national project teams, information on intellectual outputs or other news about the project topics.
The main contents are translated into 6 partner languages (English, Bulgarian, Polish, Greek, Czech and Italian). From the main screen you can choose your preferred language. The development is a working progress and in the coming months, content translated into the languages of migrants (specified in the project) will also be released: Russian, Vietnamese, Romanian, Afrikaans, Ukrainian and Arabic.
The project WHATtoDOif is co-funded by the Erasmus+ Programme and the support of European Commission for the production of this publication does not constitute an endorsement of the contents, which reflect the views only of the authors. The European Commission cannot be held responsible for any use which may be made of the information contained therein.
First release available in English and Italian, later the other languages will be available.